Stainless steel is a corrosion-resistant material consisting of iron, chromium, nickel and various other alloys. While regular steel can form rust when exposed to the elements, stainless steel features a chromium oxide layer that offers protection against corrosion and the special ability to repair itself. 
Depending on the needs of your metal stamping project, both steel and stainless steel offer unique advantages. Here, we will discuss the various steel and stainless steel materials that ESI can work with to help you identify the right option for your needs. 
Learn more in our guide: Choosing the Best Metal Stamping Material
Properties of Stainless Steel
Stainless steel offers many desirable properties that make it a popular material for metal stamping. These properties include: 
– Recyclable and environment friendly

– Long-lasting and low maintenance 

– High and low-temperature resistance

– Easily formed and fabricated

– Corrosion-resistant

– Durable in demanding environments

– High tensile strength

– Attractive appearance
Common Uses for Stainless Steel
Many industries rely on stamped stainless steel components for various applications. These industries include:
– Medical.

Stainless steel is easy to sterilize, hygienic, and corrosion-resistant, making it ideal for various surgical and dental components. 

– Kitchenware.

Stainless steel is wear-resistant, corrosion-resistant, and does not affect the taste of food, making it a suitable material for cutlery, kitchen utensils, and cookware.

– Lighting.

Stainless steel grades 304 and 316 are commonly used in indoor and outdoor lighting applications.

– Architecture.

Stainless steel's strength, corrosion resistance, and aesthetic appeal make it popular for indoor and outdoor architectural elements.
What Types of Steel or Stainless Steel Should I Use for My Project?
At ESI, we work with many types of steel and stainless steel, each offering its own unique properties for various applications. Take a look at the guide below to determine which material is best for your metal stamping project. More information about each of these materials is available in our online material selection tool.
Open Material Selection Tool
ESI is always monitoring the market to ensure projects using nickel, steel and stainless steel metal are as competitive as possible. Please review the chart below for up-to-date nickel prices per ounce, provided by Kitco.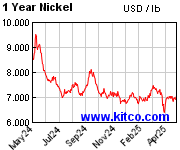 Types of Steel
We work with the following grades of steel:
C1006: Steels with carbon as the primary alloying element are called carbon steels. Carbon steels contain approximately 1.2% manganese and 0.4% silicon, with other materials present in small quantities, such as copper, aluminum, molybdenum, nickel, and chromium. Ductility and softness are two of the prominent features of C1006 steel.

C1008/1010: This is one of the most common carbon steels. It features excellent weldability, including brazeability, butt, projection, and spot and fusion.

C1018: A free machining grade that is easily formed, machined, welded, and fabricated, C1018 is one of the most regularly available steel grades worldwide. 

C1050: C1050 is a medium carbon, medium tensile steel featuring solid toughness and strength.

C1074/1075: Made for primary forming into flat spring products, C1074/1075 is a carbon, non-alloy steel that can be heat treated to hard tempers. 

C1095: Frequently used in knife construction, C1095 is a basic form of carbon steel with a carbon content of .95%. This causes the material to harden and lessens wear on a blade over time. 

HSLA: High-strength low-alloy steel (HSLA) is carbon steel with low amounts of alloying elements added to increase its strength. 
Types of Stainless Steel
At ESI, our metal stamping services can accommodate the following grades of stainless steel:
201: 201 must be hardened by cold working rather than heat treatment. It can be substituted for 301 in mild environments that favor a high yield strength but less corrosion resistance. 

301: 301 offers excellent corrosion resistance, high strength, and ductility. It must be hardened by cold working instead of heat treatment. 

302: 302 is resistant to oxidation, easy to clean and fabricate, and features high strength with low weight.

304: 304 can withstand ordinary rusting in architecture as well as resist dyestuffs, organic chemicals, food processing environments, and various inorganic chemicals.

316: Containing more nickel than 304, 316 offers better corrosion resistance, especially in chloride environments that cause pitting. Super creep strength, close tolerances, good pitting resistance, and ease of maintenance are additional beneficial properties. 

410: 410 has high impact strength and is corrosion and heat resistant. Additionally, it is easily welded and resists scaling and oxidation while being hardenable to HRc 40-45.

420: 420 is extremely durable with excellent corrosion resistance. It is hardenable to 500 BHN.

Monel 400: Monel 400 has high strength and toughness over an expansive temperature range. It is a solid-solution alloy that only hardens through cold working, and it features excellent corrosion resistance. 
Get Material Advice from ESI
Both steel and stainless steel offer various benefits for use in metal stamping. Regardless of your particular steel or stainless steel needs, our online Material Selector Tool simplifies the material selection process, allowing you to quickly identify the best possible material for your application. You can also browse our Material Selection Guides to learn more about various metal stamping materials and the applications they support.
Download Material Selection Guides